WHY PAY MORE??? - BUY HEALTH PRODUCTS AT COST WITH OUR COUPONS!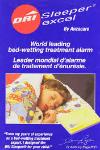 Dri-Sleeper Bed Wetting Alarm with Uro Sensor for $128.56
Save 30% $89.99 with Online Coupon Code & Pickup
M518605/98058/20180305 Coupon Code = PICKUP
This coupon is for IN STORE use only and is not to be used with any other offer. This offer is only valid at participating PROHEALTH PHARMACY NETWORK member locations for a limited time. While quantity lasts. See store for details.